Soon after the fire new buildings were constructed for both the Rose and the Dafoe businesses on the same locations. A grand opening for the new Rose Radio Electric was held in the fall of 1960.
         The television industry changed rapidly during the 60's with the advancement of color TV technology and the introduction of transistors. As with the major appliance industry, many suppliers began to experience consolidation and turmoil.
         <![if !mso & !vml]>
<![endif]>
A new company was emerging in Canada known as Crest Hardware, which carried the Zenith line of televisions and appliances. Rose Radio Electric joined this dealer owned chain and in 1965 held their grand opening as Crest Hardware. The Rose business now carried a full line of hardware in addition to appliances and electronics.
         Rose's Crest Hardware operated successfully in Frankford for some 8 years with the business evolving more and more into hardware lines. During this period Bill and Pearl handled their business demands while raising a young family and being heavily involved in the community. In addition to being an active member of several local organizations, Bill served first as a Frankford Councilor and then a term as Reeve.
<![if !mso & !vml]>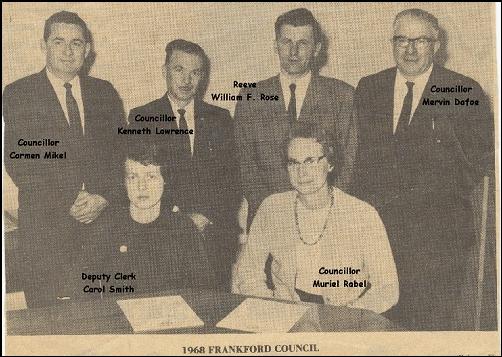 <![endif]>


<![if !supportEmptyParas]> <![endif]>

<![if !supportEmptyParas]> <![endif]>

<![if !supportEmptyParas]> <![endif]>

<![if !supportEmptyParas]> <![endif]>

   

<![if !vml]>