Evolution and Growth
         By 1981, son Chris Rose was an Electrical Engineer working for Bell Canada in Ottawa with new wife      Jo-Anne, a Belleville native. Chris and Jo-Anne made the decision to forgo the big company city lifestyle and returned to their roots in the Quinte area. They joined the family hardware business in Frankford and worked alongside Bill and Pearl as the business continued to grow.
         Chris and Jo-Anne eventually took over the reins in July of 1988, operating for the first time as a corporation.   Chris comments, "When my parents retired in 1988, our first priority was to not mess up a successful operation. With their absence on a daily basis and our continued growth we had to assemble an effective team of staff and put a number of new systems in place. My parents continued to provide active support in the store in the early years while we raised our own young family and to this day remain our mentors. Today there are about 9 of us running the business and we use computers extensively to maintain the stock levels.
         Indeed newcomers to the store often marvel at the range of stock in Rose Home Hardware and the quality of the shopping experience provided by the excellent staff.  With pride Chris says, "Staff and stock are what I consider to be our two main assets. The other crucial component is our affiliation with Home Hardware. Our strength in today's tough retail world is in providing what people need in a quick, helpful way, at a great price."
<![if !mso & !vml]>
<![endif]>
<![if !mso & !vml]>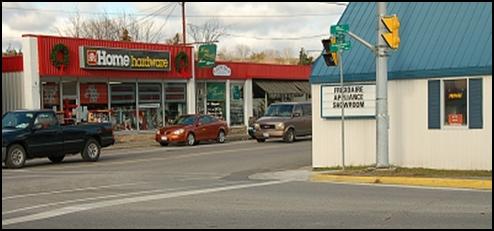 <![endif]>

<![if !supportEmptyParas]> <![endif]>

<![if !supportEmptyParas]> <![endif]>

   

<![if !vml]>